Welcome
Adelaide Active Apparel invites people to order and purchase their Soft Shell Jacket online.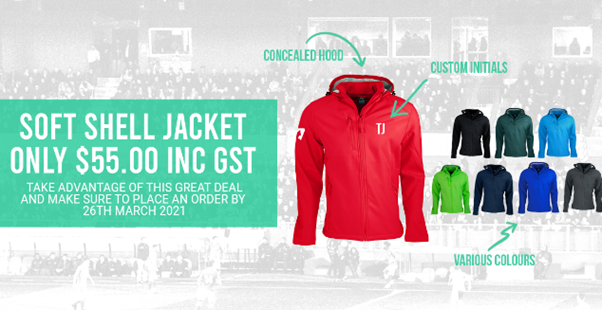 ORDERS MUST BE SUBMITTED BEFORE THE ORDER CLOSURE DATE OF: MIDNIGHT ON FRIDAY 30th APRIL 2021.
Jackets are water repellent and wind resistant.
Orders can be collected at Devon Clothing - Modbury or Edwardstown, or delivered to your nominated address - a delivery fee will apply.

Please allow up to 14 days for delivery/pick-up, you will be contacted via email when your order is ready for collection.
Upon successful completion of your order you will be emailed a copy of your order as confirmation. If you don't receive on email a copy of your order, either your order was not successfully completed or the email address you provided was incorrect.
Telephone orders will not be taken, orders can only be placed online.